Materials
functional nano thin film, gold / silver colloid, conductive materials, insulator thin film, electromagnetic pulse shield materials, organic electro luminescence,photonic crystal, photo catalyst, various catalyst, intelligent materials, biocompatible materials, cell sheet, paints / painting, surface-active agent, water shedding/ hydrophilic materials, anti-fouling / anti-bacterium materials, optical barrier film / plastic / coating agent, functional polymer, functional monomer / origomer,photonic polymerization initiator, EB hardening ink, plastic for precision machine, paper friction materials, slurry
Surface Processing /
Coating / Joint Technology
water shedding / hydrophilic surface processing, rheology, alumite, plating, blast processing, grinding / polish, CMP,YAG laser welding, embossment, etching,LB film, nano scale barrier film, nano porous membrane, nano lubricating film, DLC coating, ceramics / titanium / fluorine coating, dye / wire bonding, UV / EBphoto hardening, friction pressure welding, friction stir joint, normal temperature joint, adhesive / bonding / separation
Electronic Parts / Devices
FED, SED, organic electro luminescence display, flat panel, ink jet, various coating products, photonic switch / sensor various devices, photonic disc, hard disc,contactless IC chip, IC card, hologram, anti-counterfeit / security / attestation various products, magnet, magnetic tape, filter, fuel cell, solar battery, thin filmlithium ion rechargeable battery
Surface Processing / Manufacturing /
Measuring Instruments
corona / ozone / plasma surface processing instruments, surface tension / shape / roughness measuring instruments, contact angle measuring instruments,rheology-related equipment, anti-static instruments, film thickness measuring instruments, thin film coater, laminating machine, thickness / viscosity various controller,wafer fabrication/ polishing instruments, CVD instruments, sputtering / photo resist processing instruments, UV lamp, EB radiation instruments, photolithographymachine, EB lithography devices, spin developer, etching devices, ion implantation system, resist separation devices, nano imprint, electron microscope
*Fees will not include the consumption 10% tax.
*Please pay according to the payment deadline of the invoice issued after exhibit application.
Corporations : 340,000JPY / space
Government organizations / University laboratories : 180,000JPY / space
Exhibitor presentation : 150,000JPY / Seminar (45mins),100,000JPY / Seminar (30mins),
*Booth allocation is made by the organizer with consideration for order of apply, the number of booths and exhibit record.
Booth Specifications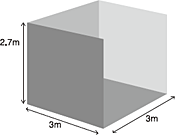 1booth: 9 square meters (W3m X D3m X H2.7m) with Panels to separate neighboring booths
*The corner booth will only have one side wall.
*The above exhibition fee does not include the cost for installation & dismantling, decoration, booth cleaning & disposal and the charges for electricity/water supply and drainage/telephone.
Booth allocation for ASTEC is on
"First come, First served" basis.
Please refer to the Floor Layout on our website and indicate the space number you require in the application form and send it to the Secretariat by Fax.
After your application is completed, the exhibitor name and the booth location will be placed on the website on the next day.
* Please note that applications will close when all space is allocated even before the deadline.
Cancellation
In principle, applications cannot be cancelled after July 31, 2023.Only when the Secretariat deems itunavoidable, the cancellation will be accepted. In such cases the following penalties will be incurred based on the date written notice of cancellation is received.
Based on the date
of cancellation
Cancellation fee
Until July 31, 2023
0% of the invoiced amount
(including taxes).
From Aug 1 to
Sep.30, 2023
50% of the invoiced amount
(including taxes).
From Oct. 1, 2023
100% of the invoiced amount
(including taxes).